Thailand, Expat
Sunday, July 13, 2014
Chiang Dao house
This is a house I used to own in northern Thailand, living there from April 2010 to July 2013. I ran out of money and sold it, but saved the below document that I created to attract buyers.
It was a great experience and I learned a lot about house construction, farming and local Thai customs.


Overview
Cozy 132 sqm (1,420 sqft) house for sale in northern Thailand. 1 bedroom, 1 bathroom, kitchen, living room, large garage, plus outside parking under roof. The house sits on 7.9 rai (12,640 sqm / 3.2 acres) of land, where half is fruit orchard and half is wood producing trees, such as teak, eucalyptus and ferntop ash. On the property is a beautiful gazebo, a greenhouse, a 400 sqm (4,300 sqft) lawn and three large fish ponds.
The property is near the village of Mueang Ngai, just outside of the Chiang Dao community. This is one and a half hour north of Chiang Mai, the major city of Northern Thailand. Three sides of the property border on a 150 km2 (60 mi2) national park with Thailand's second tallest mountain. The fourth side border on a rice farm, and the closest neighbors are 1 km (0.6 miles) away. The area offers great biological diversity with habitats such as deciduous teak forests, tropical rain forests and pine tree covered mountain tops.
Key features:
7.9 rai land with secure Nor Sor Saam (NS3) title deed
132 sqm single story house, 1 bedroom, 1 bathroom
Connected to electrical power grid
3G internet available at approx 2.5 mbit/s
Plenty of irrigation water available
Secluded, peaceful, unique nature experience
Best climate in Thailand
Below: The gazebo with the foot of the Doi Naang mountain in the background. The pond has Red Tilapia fish.
Below: Garden view of the house and greenhouse with three Neem-trees in front.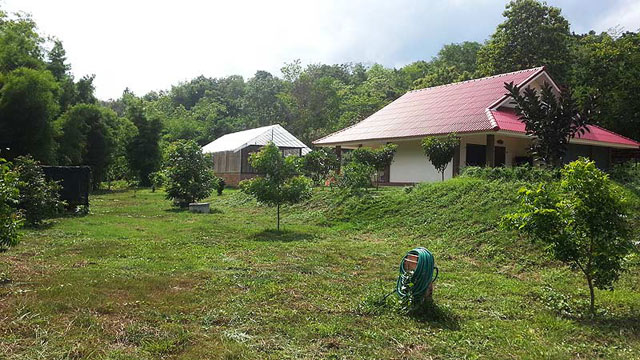 Below: View from the gazebo.
Below: View from the house porch. This pond has Black Tilapia fish.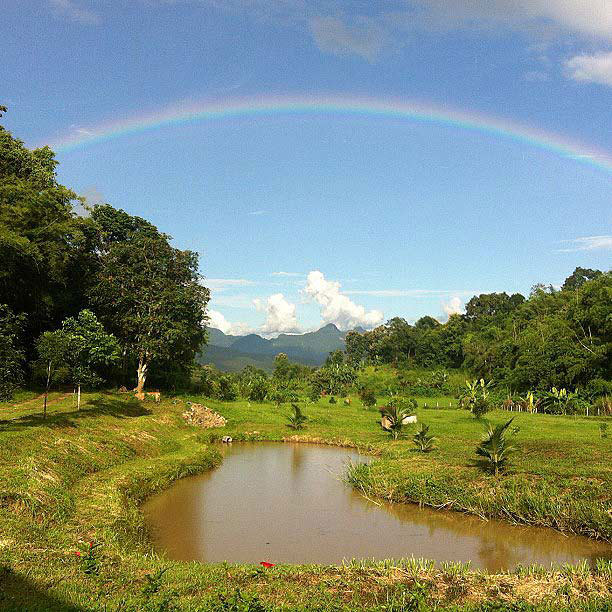 Below: View of the house from the relax area, with Papaya trees in sight.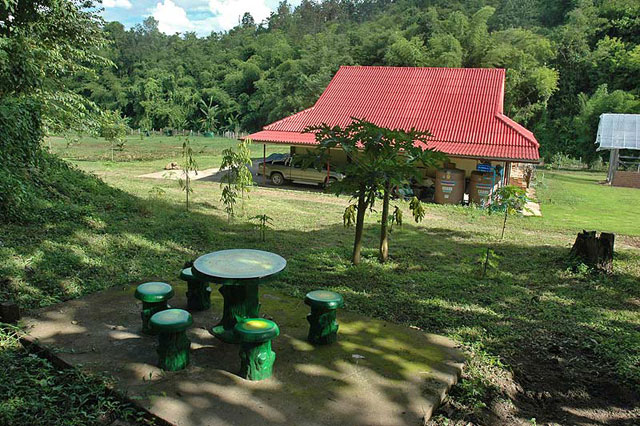 Video tour of the property.
The house
Below: The house is built on a concrete foundation with brick walls, tiled floors, and heat reflecting roof tiles. It stands on footings which extend 3 m into the ground for a secure foundation. It was finished in June of 2010.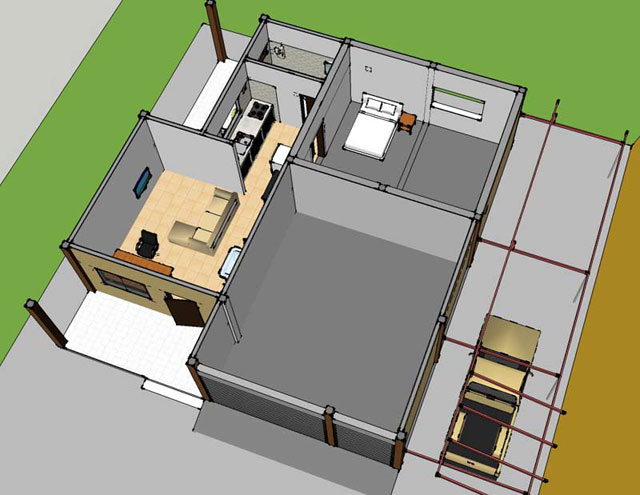 Below: The living room (currently used as a bed room).
Below: The kitchen with a sink, gas stove and tabletop. All common appliances included: microwave, blender, rice cooker, fridge, toaster, etc. Right outside the kitchen is the laundry area with a washing machine.
Below: Bed room (now used as guest room and music room).
Below: Garage with plenty of space for projects. Full set of hand tools and machines; welding machine, grinders, drills, gas cutter, etc. Also a top fed freezer for long term storage of food.
Below: Bath room with heated shower.
Below: Morning sun at the porch.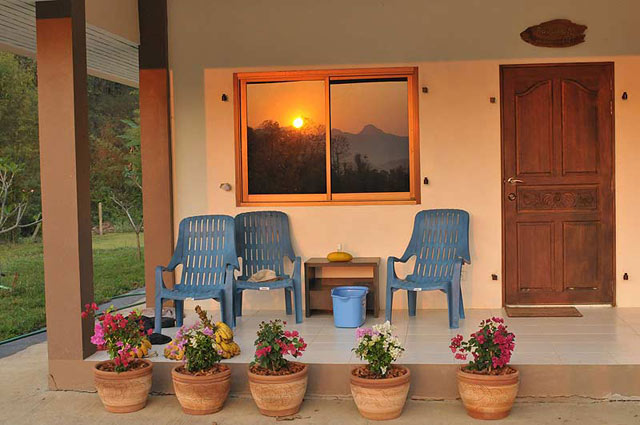 Below: In the dry season the house water comes from a well and gets filtered through manganese sand, and then stored in tanks. In the rainy season rain water is used instead.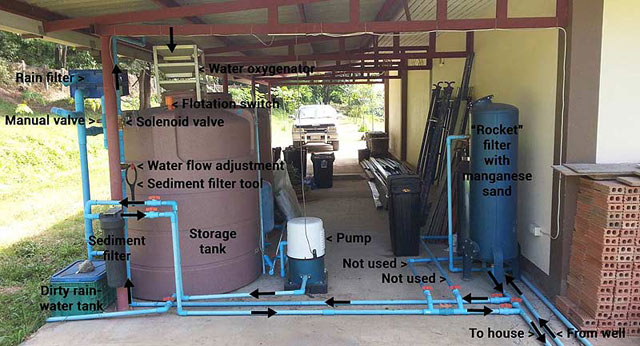 The Property
The property has the shape of a wedge, running east-west. The southern end borders the Mae Khon river, which is the irrigation canal for the local community. The northern end is elevated and borders on a smaller irrigation canal that fills up the ponds on the property. The eastern end borders on a rice/corn farm, the western end borders on the National Park.
Below: Satellite photo of the property, with the border marked out in black.

Water
The property has two wells; one at the eastern half, and one near the house. Through pumps they connect to water stations all over the property for easy irrigation. The water table is very high; wells never run dry during any time of the year.
Upkeep
Upkeep of the land is different in the different seasons. In the dry season (October - May) the grass must be cut once every two months, but the orchard requires more attention with watering of trees once or twice a week. In the wet season (June - September) the grass must be cut every two weeks, but no watering is needed. It takes five days to cut the grass. I normally hire a local to do it for around $40. The fish in the ponds eat pellets that can be bought in the local community. The monthly cost is around $45.
In case you want to use the property as a vacation home, there are locals who can take care of it while you are away. The total cost per month is around $250.
Tax and government fees
Land tax is $2 per year (this is not a joke). Electricity runs around $20 per month depending on use. There are no other government fees.
Internet, phone and TV
There is no phone line, so there is also no wired internet, however mobile phones work well. There is 3G wireless internet at a speed of 2.5 mbit/s. TV can be watched if you install a satellite dish.
Below: This sign sits at the property entrance and it reads: "Baan Huay Kamin" which means "The Kamin Spring House". My house is named after the local spring west of the property. Below is the address: Village 11, plot 8.
Below: This tree trunk bench is a nice spot for relaxing at the pond.
Below: Early morning around 6 AM and the sun is rising above the mountain range.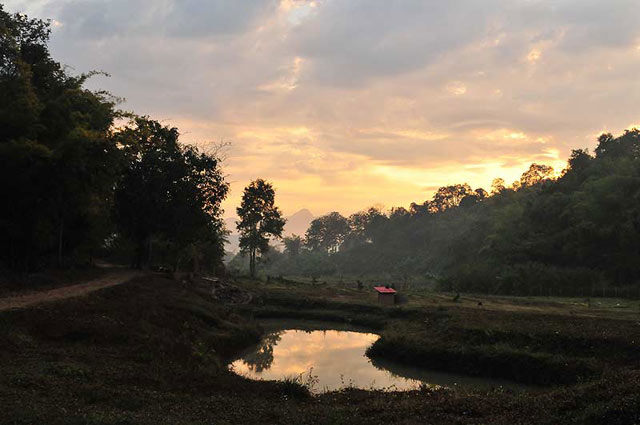 Below: Entrance area lawn.
Below: Some fruit collected from the garden.
Below: A nice view with the Doi Naang mountain in the back. The small trees in front are coffee.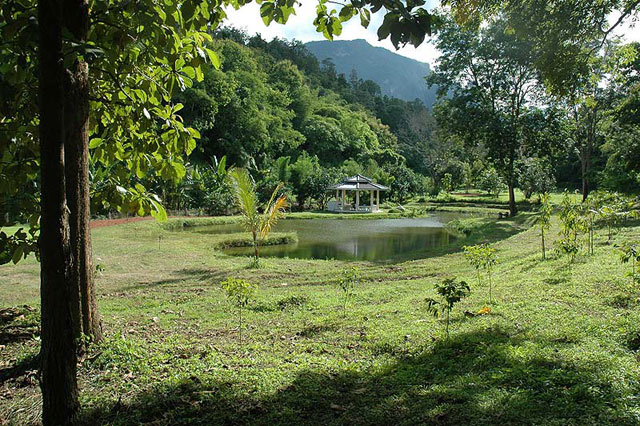 Below: The back yard lawn. A nice spot to play badminton.
Below: A view from the east end of the property.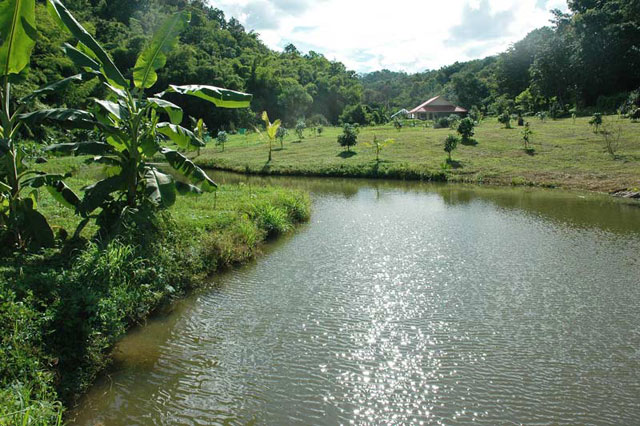 Below: This natural stone waterfall leads the water to the fish pond.
Below: Another waterfall.
Animals
A few decades ago there used to be tigers in the nearby hills, but unfortunately they have been hunted down to extinction. However I have seen boars, monkeys, ferrets and monitor lizards in the forest. And I've heard that there are some bears around too. A 10 minute drive from my property is a WWF animal shelter that hosts and treats monkeys, bears and other animals.
Living so close to nature there is plenty of opportunity to spot animals. You don't even have to leave the property. See below for a few examples.
Below: There is a great variety of butterflies in this area, including the much desired Bhutan Glory (not in the picture though).
Below: Caterpillar.
Below: This frog is quite unusual in that it easily can climb walls.
Below: Geckos are plentiful and they keep it tidy around the house.
Below: Lizards can be seen but are usually very quick to run away.
Below: The Mantis is a welcome guest since it eats the other bugs.
Below: Mantises come in many shapes and colors.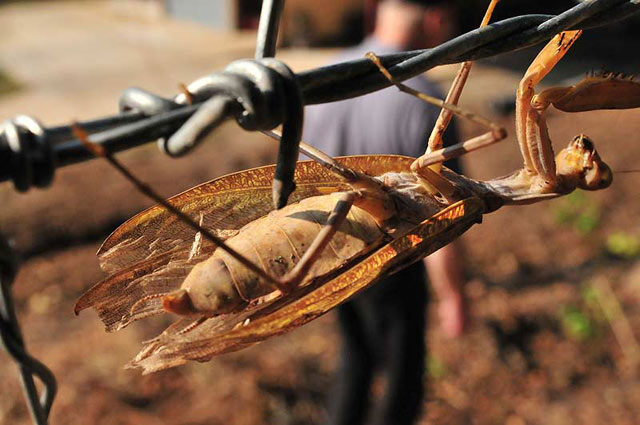 Below: Colorful and beautiful St Andrew's Cross Spider.
Below: Beautiful wasp.
Below: video of some animals in the general area.
Trees
A lover of trees, I planted plenty of them: Pomelo, Mango (three varieties), Coffee, Neem, Chestnut, Macadamia, Coconut, Sapodilla, Burmese Grape, Jamaican Cherry, Mangosteen, Mombin, Langsat, Longan, Rambutan, Tamarind, Lychee, Cherry, Guava, Banana, Lime, Starfruit, Avocado, Gandaria, Custard Apple, Breadfruit, Jackfruit, Mulberry and Guanabana (soursop).
There is also Teak, Eucalyptus, Bamboo and Ferntop Ash, all of which can be used for handicraft or construction.
A few really tall and old trees are on the property, for example a Fig tree (non edible).
Below: Avocado.
Below: Banana.
Below: Cherry flower.
Below: Coconut.
Below: Coffee (Coffea Arabica).
Below: Eucalyptus.
Below: Ferntop Ash.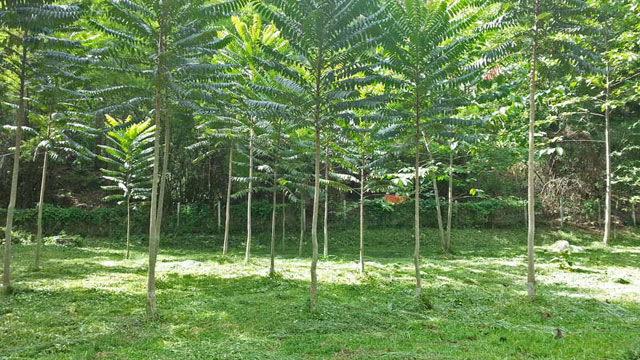 Below: Fig tree.
Below: Guava.
Below: Jackfruit.
Below: Lime.
Below: Longan.
Below: Mangosteen.
Below: Mombin.
Below: Neem, "nature's pharmacy". All parts of this tree can be used.
Below: Papaya.
Below: Pomelo, the king of citrus fruits.
Below: Rose apple.
Below: Sapodilla.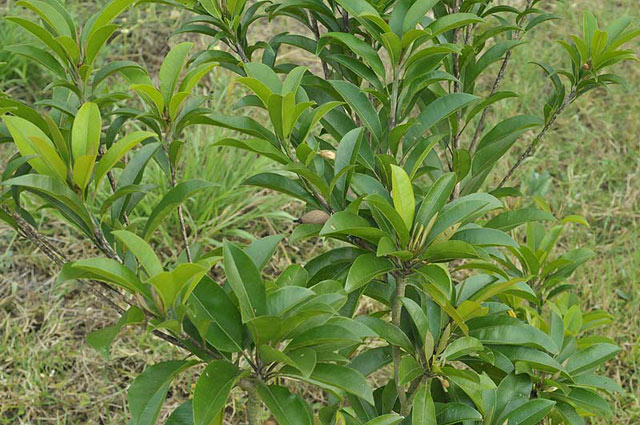 Below: Teak.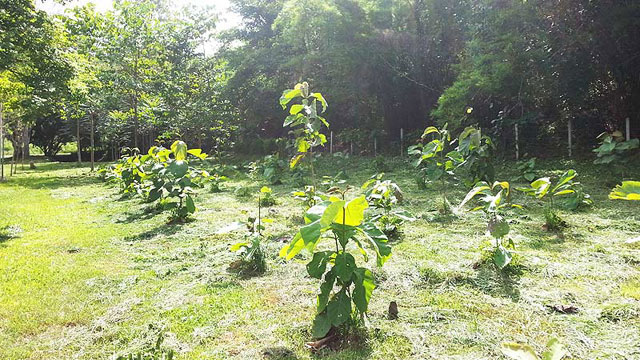 Flowers
With many fruit trees come many flowers. And many bees and butterflies. The property also has a variety of traditional flowers. Here are a few examples.
Below: Bluebird Vine is a fast climber and can become quite big.
Below: Red hibiscus grows very easy in this climate. Can be propagated from cuttings.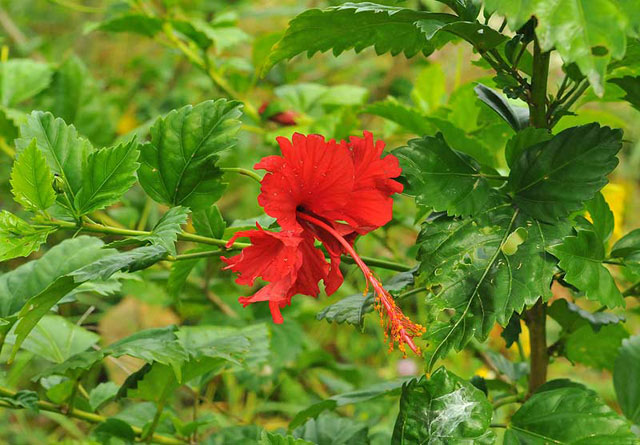 Below: Mango flowers have a very nice and sweet smell.
Below: Mimosa Pudica is sometimes kept as a pot plant in Europe. It has leaves that fold when touched. Here it is not well liked, because of its thorns.
Below: Papaya flowers smell sweet and very similar to the fruit itself.
Below: Red Fragipani is a common flower at Thai temples.
Below: White Fragipani smells a bit like soap.
Below: Yellow Fragipani has very nice looking leaves.
Growing your own food
Fish ponds, fruit trees and a greenhouse enable you to have fresh food all year round for the whole family. It is also easy to raise chicken, ducks, goats or any other animal on the property. There is plenty of space.
Below: This 50 sqm (540 sqft) greenhouse enables you to grow fresh produce all year round, protecting the crop from the heavy rains in the rainy season, and the strong sun in the hot season.
Below: Thai style cucumber.
Below: Growing veggies in the greenhouse.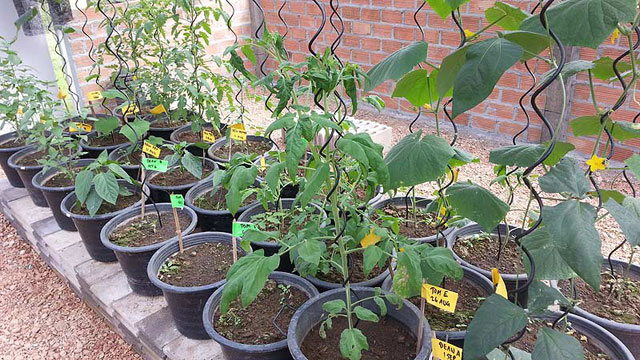 Below: Tomatoes.
Below: Red Tilapia is a hardy fish that is easy to breed and delicious to eat.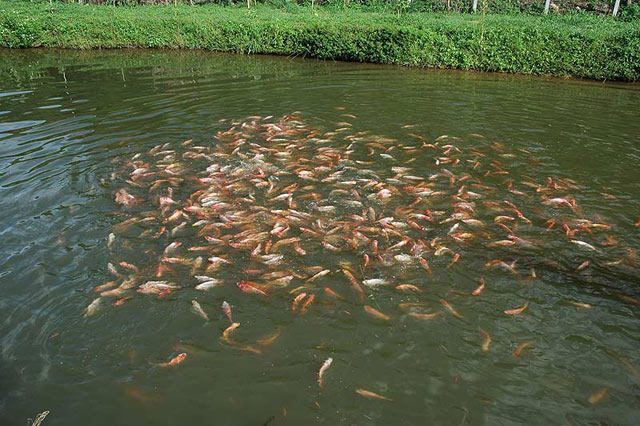 Below: Red Tilapia fish.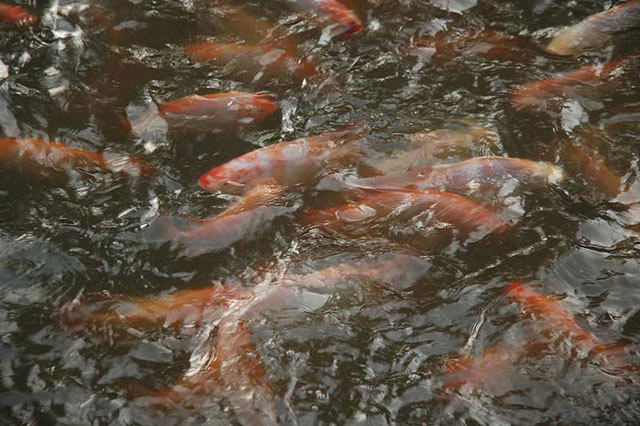 Below: Sometimes the locals come and buy fish from me to sell at the local market, and they catch it this way. Personally I relax with a fishing pole instead.
About Thailand
Thailand is a country in South-East Asia, with 67 million people. It is often called "The land of smiles" for its welcoming people. In a way it is similar to Mexico; cheap prices, a popular tourist destination, lots of outdoor activities, beautiful beaches, and friendly laid back people. However Thailand is a lot safer, northern Thailand is a lot cheaper, and nature is generally more lush and green than Mexico.
Below: Buddhist stupa in Chiang Mai.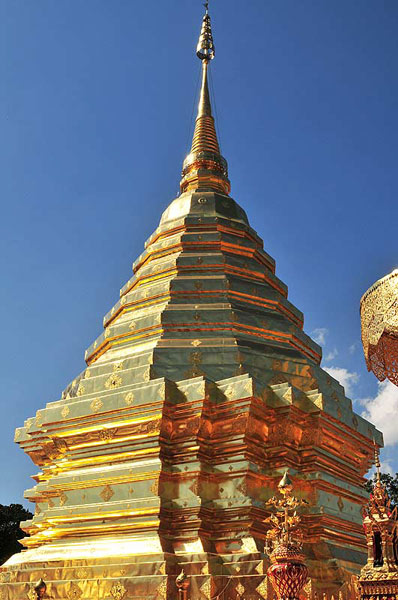 Climate
Thailand has a tropical climate with monsoons. The cold season is from October to March and sees very little rain. The hot season is also dry, from April to part of May with temperatures around 36 C / 97 F. The rainy season lasts from May to September.
Bangkok and the southern parts are warmer than Chiang Mai, which is at an elevation of 300 m. My property is at 500 m and next to a forest, making it a pleasant climate most of the year.
Prices
Most local things are very cheap in Thailand, especially in the north. A typical Thai meal is $2 or can be had for as little as $1. Western food is almost half the price compared to North America and Europe. For example a Big Mac is currently $4.20 in the US, and $2.60 in Thailand. Hotels are $35 per night. A furnished studio apartment is $200 per month.
Thailand currently has a booming economy, evident by fast growing cities. Chiang Mai is bustling with tourists and construction sites. This is also extending to nearby communities such as Chiang Dao, where land prices have continued to rise for many years. This makes Thailand an attractive place for investments.
Below: Buddha statue in Chiang Dao
Foreign ownership
Thai law does not allow direct foreign ownership of land. However many people still invest in Thailand, because there are some good alternatives:
30 year lease. When the lease runs out, it is simply renewed.
Ownership through a Thai company, where the foreigner is a shareholder.
Ownership through a Thai spouse.
Usufruct. This is a contract where you are the owner of the land for your lifetime, and it then reverts back to the previous owner. This is my current form of ownership.
Visa
For short time of up to one month, no visa is needed to stay in Thailand. For long time stay you have the following options:
Tourist visa of up to 6 months, which then is repeated.
A student visa, if you for example enroll in a Thai language course.
Retirement visa if you are 50 years or older.
Spouse visa if you are married to a Thai person.
A work visa if you get a work permit.
Below: Traditional Thai dance in Chiang Mai.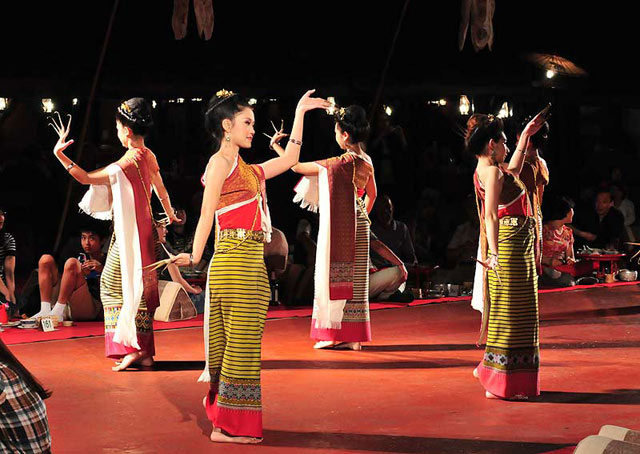 Parts of Thailand
Bangkok is the commercial center of Thailand and a major travel hub of Asia. It is a busy city which few people find attractive to live in long term, but is well worth visiting as a tourist.
The southern islands of Phuket, Koh Samui, Phiphi islands and Koh Pagnan are world famous tourist destinations. With perfect beaches and happening nightlife they are a fun vacation. Phuket is only a 2 hour direct flight away from Chiang Mai.
Northern Thailand is gaining popularity year by year. It may be the genuine Thai culture, cheaper prices and slower life style, or perhaps the nicer cooler climate and majestic mountains that attract.
Below: A Tuktuk taxi, an iconic image of Thailand.
About Chiang Dao
Chiang Dao is a Thai town with a population of 15,000 people. Here you can find a good variety of shops and a few hotels, plus banks, a post office and police. Chiang Dao's claim to fame is the Doi Louang mountain, Thailand's second tallest at 2,175 m, and the Chiang Dao cave which runs very deep into the mountain. Diverse habitats makes the mountain attractive to bird watchers and hikers. There are also hot springs and hill tribe villages around; the area is popular for tourism.
Mueang Ngai is within the Chiang Dao district and has a population of 3,000 people. It's a small farming community with one main street and a few shops with the basic necessities: a 7-eleven convenience store, a market, three construction supplies shops, a pharmacy, three restaurants, two ATMs, five food stores, a house appliance store, and more. Mueang Ngai has a very local and genuinely Thai feel to it. There are very few foreigners around.
Chiang Mai is the main center of northern Thailand, a metropolitan city of nearly a million people. Here you can find every kind of shop and restaurant possible, ranging from local Thai style to Mexican, Italian, Japanese and Chinese. Chiang Mai has a strong expat community with many immigrants from all over the world. There are three major shopping malls, with two more under construction. Chiang Mai is famous for Lanna architecture and exquisite handicraft.
Below: Mueang Ngai market where you can find fruit, vegetables and meat of all kinds.
Below: The Mae Khon irrigation dam, 500 m from my property. The locals come here to relax, catch some fish, and swim.
Below: Rain forest trees in the jungle not far from my house.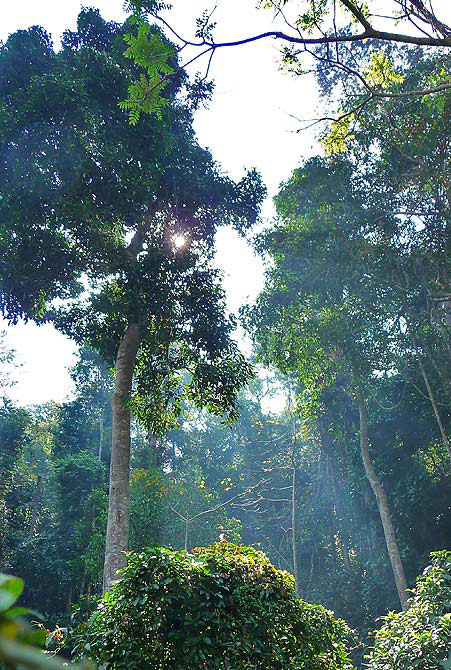 Below: Local production of corn on top of the Doi Naang mountain, Mueang Ngai.
Below: Farms in the Mueang Ngai valley.
Below: A Buddha statue in the Chiang Dao cave.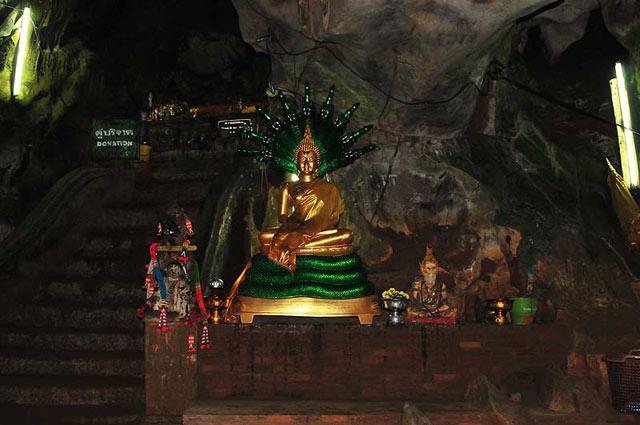 Below: The entire Chiang Dao district is full of Lime stone hills.
Below: The Maetaman river and it's trained elephants.
Below: The famous Wat Doi Suthep temple in the mountain above Chiang Mai.
Below: The Khamtieng market in Chiang Mai has well over a hundred shops with all the trees, shrubs and flowers you would ever need.
« ‡ »