Central America, Travel, Motorcycles
Tuesday, August 26, 2014
Motorcycle tour of Guatemala and El Salvador 2013
I did not plan ahead for my Central American tour either, I never do. But fortune brought me to some of the most beautiful places I've seen in my life. Overall this trip was a great adventure that made me rethink my impression of Guatemala, and unfortunately dislike El Salvador.
I had just recovered from my Belize tour, and set out on the 3rd of November by driving from San Ignacio to the nearby border of Guatemala. Due to computer malfunction of the immigration system, I had a boring three hours to kill, but soon after that I was on my way westward.


Below: My Honda Tornado loaded up and ready to go.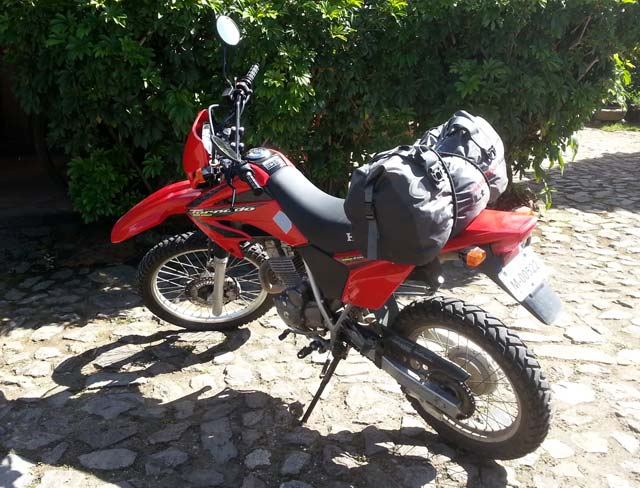 The road took me through a hilly area with a few villages on the way, and I was enjoying the sunshine as my bike flew ahead. It started really good, compared to the rain of my Belize tour.
Below: The tour through Guatemala and El Salvador.
This region hosts the most famous Mayan temple in the world, Tikal, but after spending plenty of time in Belize I thought I had enough of the Mayan culture, so I continued past it straight to Flores. This was a really nice little city, with a beautiful old city-center on a small island surrounded by the Petén Itzá lake. I had lunch at a waterside restaurant, while relaxing and enjoying the smell of water and calm atmosphere.
Below: View from the Flores old city island onto mainland.
Below: View from Plaza Uaxactun, a very modern and nice shopping mall in Flores.
The next morning I geared up and got ready to head south. It was an overcast sky with threat of rain, and after a few hours riding through hilly countryside the sky finally broke out some drops. It was quite scenic along the way though, with a mix of plantations and thick forests.
Below: Hills near Santa Elena, on the way to Rio Dulce.
I had lunch at a roadside mom-and-pop restaurant, and became the amusement of the whole family. They were very curious about me and my adventures, and I of their lifestyle and possible purchase of forest property. It seemed to me that owning land here would be a much better alternative to Belize.
Rio Dulce turned out to be a very busy little village with a huge marina. Little did I know at the time of its importance as a sailing hub of the Caribbean Sea. It features a majestic bridge across the wide river and some decent hotels.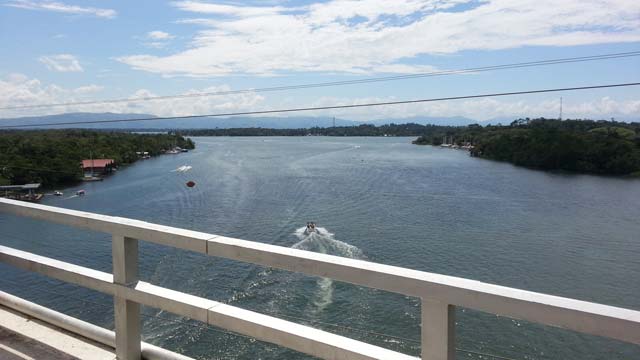 Above: Looking west from the Rio Dulce bridge. Below: Looking east towards the Rio Dulce marina.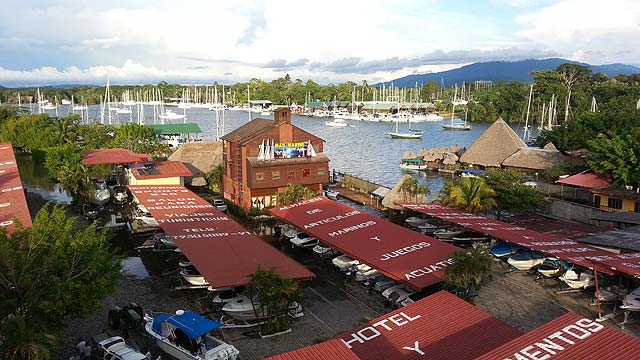 The next day I turned west and towards Guatemala City. It was a very long ride and a slow climb up into the plateaus of the capital. The last hour was a quite dramatic ride on a wide highway that ran between between mountain peaks.
Below: Crossing a bridge on the way to Guatemala City.
Guatemala City turned out to be a pleasant surprise. I stayed in a hotel in Zona 10, which is a more upscale area with shopping malls that could rival any in the Americas. Still you could eat great meals on the street for very little. Surprisingly there was a Husqvarna motorcycle dealership, so with some Swedish pride I entered and had a fun conversation.
Below: The Oakland Mall in Guatemala City.
Half an hour west of the city is Antigua Guatemala, the old city. The ride there was a reward in itself, on really steep slopes, overlooking a volcano, and with tall pine trees lining the road. However the old city itself was fairly unimpressive. Just a place full of old run down buildings and cobbled, hard to ride streets.
Below: One of the many cobblestone streets of Antigua Guatemala.
By random chance I decided to check out a lake I saw on the map, and the road there took me north. After some confusion, I stopped at the side of the road and asked for directions. I didn't get a good impression of the guys, but decided to follow their advice. The road was initially really bad, and I kept wondering if I was lead into some kind of trap to get robbed.
Eventually I was driving through native american villages, with corn fields along the road, and the endeavour turned quite interesting. Finally, I saw some great promise far away with blue water and three volcano peaks.
I had reached the area of lake Atitlán, one of the most famous places in all of Guatemala. The road continued its winding way forward, and as I approached the lake, the view became more and more magnificent. I reached a steep cliff and saw the breathtaking view of the lake below, surrounded by volcanoes and farmland, with villages dotted along its shores. I had never seen anything as scenic in my life.
Below: Lake Atitlán.
I continued downward to get to the village of Panajachel, right on the coast of the lake. Near the road were bushes with yellow and purple flowers. Tall trees gave shadow to the ride. It was a taste of paradise.
I arrived and checked into a hotel, and promptly found some foreigners. I assumed they were tourists, but all of them lived there. Apparently Atitlán was a magnet for hippies in the 70s and many still live there to this day. I could clearly see the appeal. Great climate up in the mountains, cheap, and with spectacular views. It is the Guatemalan equivalent of Pai, with a laid back lifestyle combined with lots of backpacker tourism.
Above: The main street of Panajachel. Below: The little port of Panajachel with day cruises around the lake.
Below: The beautiful Hotel Real Santander, Panajachel.
I could seriously consider living in the Atitlán area, at some point in the future. It is not too far from Guatemala City, which is great for supplies. Perhaps it is a bit crowded and overrun by tourism, but with a little luck some private spots can be found.
One thing struck me as odd though. All foreigners and mestizos looked happy and were generally friendly, but the native americans walking the streets were mostly grumpy and avoided contact.
After a few days I headed back towards Antigua Guatemala, and then south with the intention to cross over into El Salvador.
Below: Having a typical breakfast at a roadside restaurant just outside Antigua Guatemala. Scrambled eggs, ham, bean paste, fried plantain, a mix of fruits, tea, soup and bread.
After a long and boring ride I found myself at the Pacific Coast and the port of San Jose. Bummer! This wasted me two hours of riding, because I should have turned eastward much earlier. A good reminder to read maps properly.
Near the border to El Salvador, trucks were lined up for several kilometers. It took about 20 minutes to drive past all of them, and finally I checked into a hotel in Pedro Antonio right at the border.
When you are out on the road like this, you are frequently approached by opportunistic people. I typically just say no to whatever they offer me, even if I need their advice. It is all too easy to get suckered into their schemes. In this case I was approached by a guy who spoke perfect English, and wanted to help me cross the border. For some reason I accepted, and he turned out to provide a good service. But in general I would avoid it, because I would constantly be on my guard thinking he will rip me off, and that ruins my experience. It is better to deal with things on your own, even if it takes a bit longer.
My streak of good luck ended as I entered El Salvador. But no big harm was done, and in a way it enrichened my experience.
First, I ran out of gas. A nearby farmer graciously donated some gas, and I had a good chat with him and his two sons. Sometimes a misfortune can be turned into a positive. At least it pushes you into unfamiliar circumstances.
Second, I hit a pothole at full speed, with a busted rim and a flat tire as result. But all I had to do was to roll my bike 50 m forward and there was a handy mechanic, probably getting lots of customers from this crappy road. How much does it cost to fix a tire in the third word? $2.
Below: Fixing a flat tire in El Salvador.
Third, I was more than confused by the road signs and maps, and took the wrong way a couple of times. Cursing like a sailor, I eventually got on the right path.
The road to Santa Ana was a fun ride in hilly countryside. I saw plenty of coffee plantations, and had a nice overview of the vast valley below.
However, Santa Ana itself was dirty, crowded, with tiny alleys that were hard to ride, and generally boring. This was too bad, because I was hoping to find a hidden gem.
A group of volunteers stayed at my hotel. They were busy building housing for poor peasants in the region. Most of the volunteers were young inexperienced Americans, but seemingly with a passion to help the needy. I quietly wondered if not experienced El Salvadoran construction workers had been more productive, using the money from the cost of travel and lodging for these youngsters. Are these organizations really about making a difference, or about easing conscience by seeming to help?
Above: Coffee trees, with the Santa Ana valley below. Below: The Cathedral of Santa Ana.
I blasted away in high speed, knocking off San Salvador and then finally arrived in San Miguel at the other end of the country. This really shows how small El Salvador is.
I wanted to like the country, but everywhere I looked it was dirty and poor, with lots of road maintenance work blocking the way. It was so bad that I didn't even want to stop in San Salvador; I just continued past. San Miguel was no better than Santa Ana, actually very similar in many ways. I stayed a few days to get the busted rim straightened out at a local workshop.
I thought about crossing through Honduras into Nicaragua. Lake Nicaragua had caught my imagination ever since I found an island for sale there. But the prospect of dealing with Honduras deterred me. The stories about this messed up country had piled up. Around the same time I got invited to go to Venezuela, and decided it was time to head back to base in San Ignacio, Belize.
The way back was pretty straight forward. I headed back to San Salvador and then north to Metapan, a village near the Guatemalan border. When I arrived, I got a bit more cheered up, and was thinking that even El Salvador has its good sides. Metapan seemed like a totally different place; peaceful, clean and with decent roads. I took a long stroll around the city and studied the architecture.
A few days later I was back in San Ignacio and the conclusion of the adventure. Guatemala impressed me much, and I will go back there some day. El Salvador not.
« ‡ »