Kullfallet
Sunday, March 29, 2015
Moving into Kullfallet
It has been an impatient wait for the snow to melt, so I can finally move into my new house. But preparing for the move kept me very busy with buying tools, equipment, food and a car. We also took a trip to clean out the house and get acquainted with my neighbor, a friendly 80-year old lady living alone 800 m from my property.
It will be a challenge to make it work. No electricity, no running water, no plumbing, no indoor toilet, no shower, no kitchen, no heating (broken chimney), a leaking roof, parts of the floor missing, parts of the ceiling missing, unusable entrance road, and a climate where it gets below 0 C (32 F) in the night. So it will be like camping out for the first few months. Luckily I have a spring with fresh water, and a solid internet connection.


Below: The sad state of the stove and chimney.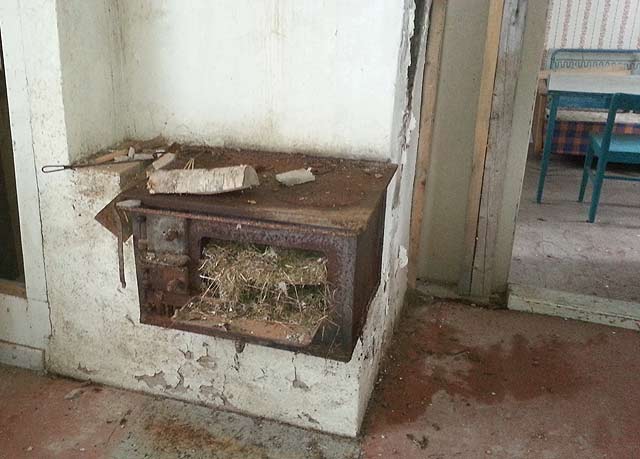 Electricity and heating are crucial, so I'm bringing a generator and a LPG stove. Later they will be replaced by solar panels and fire wood.
The sales document of the property describes the house as having no value, ready to be demolished. With a little luck and some hard work it can be saved, giving a nice bonus to the purchase.
Ceiling and roof
This is the first matter of priority so I can get somewhat comfortable. With missing pieces of the ceiling there is no way to heat up the house. It should be a quick job of nailing some particle board to cover up the holes, and then spread a plastic sheet along the roof ridge and cover it with roof tiles to stop the leaks. All materials are available around the house.
Below: The roof is built on the cheap from left over timber cuts and salvaged wood from a burnt down house. Eventually it will be torn down and completely rebuilt.
Gas stove
I bought this Gorenje stove in Stockholm, where city-gas is still powering many kitchens. As apartments are modernized and converted to using electricity, many gas stoves appear on the second hand market, where you can get them for around 1000 SEK.
They then need to be converted for use with LPG, which involves changing the nozzles and pressure regulator, another 500 SEK.
LPG (gasol in Swedish) contains 12.8 kWh of energy per kg, and comes at a price of around 27 SEK/kg, which makes it 50% more expensive than electricity as a source of heat. But gas is easier to cook with, and a better choice when you depend on solar power for your home.
Entrance road
The entrance road must be made usable so deliveries are possible and friends can come visit. First half of the road is through a tall forest, and has been used by loggers. It is in very good condition, hardly needing any improvements.
Then the road continues into an open space of cleared forest and a bit later passes a 10 m stretch of very wet and soft ground. This has to be dug away and filled up with gravel, and a drainage pipe buried to lead the nearby bog water across. See below satellite shot where the area is marked in red.
Chimney
Cracked by ice from the leaking roof, the chimney must go through some serious renovation. This involves cleaning and applying render to both the outside and the inside. Outside is straightforward by using standard mortar tools, but the inside is more tricky. I will try sliding form casting (glidgjutning), which is done by making a plug that fits snugly in the the chimney, inserting it at the bottom and filling mortar on top of it, and then slowly pulling it up through the chimney with a winch. The inside surface gets covered by a thin layer of mortar, filling all the cracks.
When this is complete I can finally heat up the house with a nice birch-wood fire.
Sills and logs
The house was originally built as a log house, but later covered by paneling, probably to make it look more modern. The leaking roof has rotted two of the sills, and probably many more. They need to be replaced, and this is quite a task.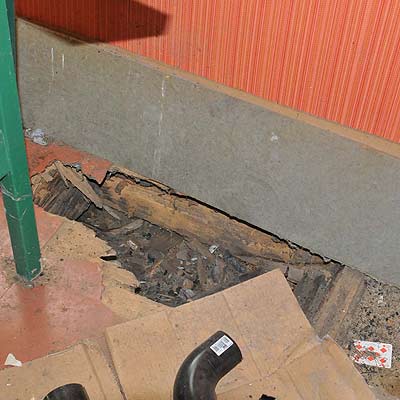 To replace the logs, the house must be lifted by jacks and held in place while the new logs are fitted. Then parts of the floor rebuilt, both logs and planks.
In worst case most logs are rotten, and then it makes no sense to try and repair the house. Instead it will just be temporary accommodation while a new one is built. The state of the logs will become quite clear when I remove the paneling.
To the left you can see the rotten sill log.
Electricity
Having an easy way to run electric equipment is a high priority, so solar panels come next. The roof of the house is unfortunately shaded by tall spruce trees, so a roof mount is not possible. Instead I will build a steel pipe mount in the ground nearby, and connect the panels with wiring that I bury in the ground, leading into the house. This way I can also remove the panels during the winter, and store them in the house.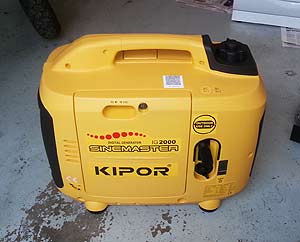 Left: the Kipor 2 kW gasoline powered generator I will use initially. Later it will be the backup if the battery system fails.
I am currently looking at components to buy, and it will probably be a 24 V system with the following: Four pieces of 250 W solar panels. Four pieces of 12 V, 200 Ah lead acid deep cycle batteries. A power inverter, pure sine wave, 24 V, 2 kW. A MPPT solar panel battery charger. Add some wiring and a distribution board with fuses, and the total is around 40,000 SEK (4,700 USD).
Initially I will try to do without appliances that use a lot of electricity, such as a refrigerator, and upgrade the system later to get more comfortable.
Running water
This is fairly easy. An electrical pump at the well and a dug down 1" PEM tube along with an electrical cord, all the way up to the house. An outside tap will do for starters.
Then it is time to decide where in the house the kitchen and bathroom should be built, and install the necessary equipment.
To the right: the tiny well, 50 m from the house. It tastes like really clean water, but a lab test will give the final say.
Plumbing
This might get complicated depending on how comfortable I want to be. Gray water (from the shower and sinks) can be drained into a bed of gravel far away from the house.
Black water (from the toilet) needs a more elaborate system, and a carefully picked location to avoid contaminating the fresh water.
Roof
The roof will be completely rebuilt from new materials, saving only the tiles, to a cost of around 10,000 SEK (1,200 USD). As there is no hurry, this will be done when most other things are complete.
Below: the 2003 model Citroën C3 I just bought. I wanted a small car that is cheap on gas, and that is comfortable to drive for a tall person like me.
« ‡ »