Motorcycles
Tuesday, July 15, 2014
Why I like 250 cc offroad bikes
A 250 cc offroad motorcycle is the perfect compromise in terms of weight, price and ability to ride through difficult terrain in the country side. You sit up straight which is easy on your back and arms, and you have a good view of the traffic in front of you. These bikes are usually made for loading up gear, so it is easy to tour on them.


I started my motorcycle hobby in 2001 with the best bike money could buy, a Triumph Tiger 955i. It was a great touring bike that I took around Europe the summer of 2002.
Below: I've just loaded up the Tiger and ready to start my summer adventure.
Riding this bike was like sitting on a rocket. With 104 HP it flew forward and responded to every little turn of the throttle. The three cylinder 955 cc engine was super smooth, humming like a kitten, delivering strong uninterrupted power to the drive train. The riding experience was superb and smooth, and it was an all-rounder surviving equally well on tarmac and gravel. But it was a heavy 250 kg with a full tank, and far from nimble in the forest. And it was really expensive to buy and own.
I sold the Tiger after three years of ownership and it has been 250 cc bikes ever since. The first one was a Kawasaki KLX250 I bought in Thailand, while I was living on my farm in Chiang Dao.
Below: The great KLX250. I had plenty of fun with this in the Thai jungles. No matter how stuck you get, you can always step off the bike and start yanking it out of trouble.
The next bike was a Yamaha I bought in Medellin, Colombia, to do a country wide tour on. This was a high quality bike all through, and probably my favorite among the 250 cc bikes.
Below: The Yamaha XTZ250 outside my hotel in Medellin.
Two years later when I toured Central America I found myself wanting a bike, so after spending two weeks looking around in Belize, I bought a Honda Tornado, which is a simplified version of the XR250, for example with a carburetor instead of fuel injection.
Below: The Honda Tornado cost me a lot of money, due to misfortune, but turned out to be a great bike.
Finally, when I returned back to Thailand I got myself a Honda CRF250L, which just had come out as a new model here the year before. I works great and I currently use it around the Chiang Mai area.
Below: My current Honda CRF250L.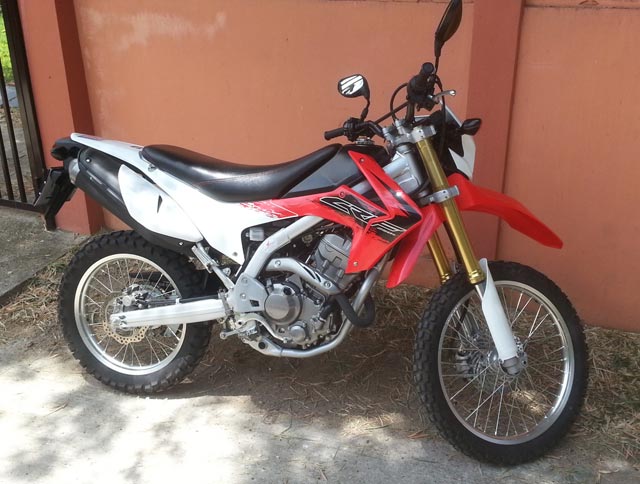 Comparing these four bikes I think they are very similar. Nothing major stands out as benefit or detraction, except the carburetor of the Tornado, which required fiddling when starting up the bike. The Yamaha felt slightly stronger and the Kawasaki had slightly better suspension, but this is just details.
However, comparing these bikes to other types of bikes, I can say they really stand out for me, and the way I use a bike. I typically use it around town and frequently take it on small forest roads. I also really enjoy the challenge of a twisty narrow jungle trail of poor quality around the mountains. I can't think of any other type of bike that can do this for me.
650 cc vs 250 cc. A 250 cc offroad bike uses less fuel, is cheaper to buy, cheaper to fix, and is easier to maneuver on tight forest tracks than a 650 cc offroad bike. The extra punch in a 650 cc engine comes at a price I am not willing to pay. Most people who tour extensively prefer a 650 cc, but I am the other way. I want something that is light enough so it can be carried over rubble to conquer difficult terrain. As for riding on challenging forest tracks, a 250 cc is more than enough, and it has more to do with your riding skills than anything else.
Offroad vs Sport bike. I've never been a fan of sport bikes, because they are made for speed only, and that's a sure way to kill yourself. I rarely ride faster than 80 km/h on a long tour so I get to see the scenery.
Offroad vs Street bike. Street bikes might look cool. Many offroad bikes also come in special super-motard editions with slick smaller tires that make them into a street bike. But I like the high riding position of a real offroad bike, and the tire knobs don't bother me much.
I am waiting for the next big thing in biking, and that is when electrical bikes become mainstream. If Kawasaki, Yamaha or Honda offered an offroad style bike with around 20 HP electrical engine at a price similar to a regular one, I would immediately buy it.
« ‡ »